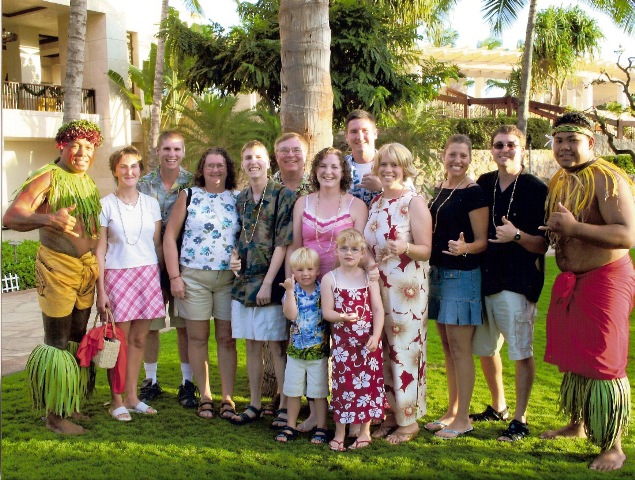 The Van Hoof Family is what I would consider a mixed can of nuts. My Father Gary, born and raised in Freedom, WI married my Mother Sue from Little Chute. They live in the family home in Freedom, WI. My Father has many jobs, a salesman, Town Chairman, and not only the president but also a member of the hair club for men. My Mother is a math teacher...gross. She teaches at Neenah High School. Where the hell is Neenah? My parents put up with a lot of shit from us kids, but it's their own damn fault for having us.
First comes Chris, large and in charge, older brother. He's married, has kids, and did I mention he was old? He lives in Hawaii with his wife Laurie and 2 children Gabby and Marcus. Chris is a Major in the Air Force and Laurie lays on the beach all day and some how never gets a tan. Then comes me (I'm the pretty one). Next is my twin brother Brian (twins like Arnold and Danny DeVito). He and I spent a couple years at Stout together, remember any of that Brian? Me neither. He's also married to a beautiful and I still believe deaf woman named Kim. They have a permanent residence near Wausau. Brian works in construction and Kim maces people (don't piss her off). Farther down the list, we get to Ben. Ben's cool because he has a lot of top secret passes into military stuff. He also looks great in a mad bomber hat. Ben lives in Colorado with his Noodle and is also in the Air Force. Last and certainly with the most attitude, my sister Stephanie. Steph is still in college. She is enrolled in the seven year plan at UW-Stevens Point. She is currently engaged to the two giant tribesmen in the picture above and will soon be sacrificed. Just kidding Steph. She is really engaged and will be married to her fiancÚ Brian in June 2008. That's the whole gang. We don't get together to often but when we do...RUN AWAY!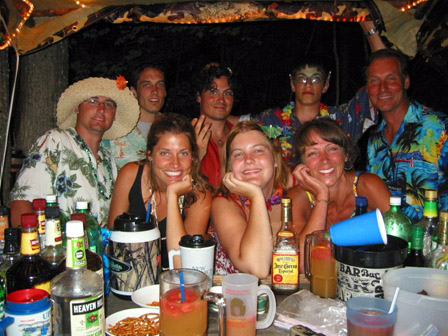 The Konkle family has strong roots stemming from Freedom, WI, where my dad, Joe Konkle, and mom K, Deb Konkle, were both born and raised. They actually went to high school together! They live in the house where I was raised for the majority of my life just outside of Freedom. Joe "works" for MCC, Inc. based out of the Mackville Quarry where he spends his days doing what's got to be the coolest job ever…… blowing shit up! And he does it very well! Deb works for Mau and Associates in Green Bay, WI, as an accountant, acquiring the job after bravely going back to school and graduating with a Associated Degree in Accounting from Fox Valley Tech. They are currently spending most of their free time up in the north woods near Crandon, WI building a beautiful family/retirement home on Pine Lake.
So, next come the kids…..You read all about me earlier, and I'll be talking about Justin a little later, so then comes Craig. Craig lives in Fond Du Lac, WI, with his new wife, Jesse, and puppy, Maddy. Craig is the greatest high school math teacher ever (tied with Sue, of course!) for West Bend High School. Jesse works at Todd Stevens & Associates and spends her weekends defending giant redwood trees from chainsaws. Craig and Jesse have gone to more concerts than I can even fathom – they like music a lot. The youngest is Garrett – who definitely reaps the benefits of being the baby of the family. I guess I don't help – I do my fair share of spoiling the kid…he is my baby brother! Garrett is living at home (told you….reaping…just kidding, buddy!) and attending Fox Valley Tech for electronics (for the moment). Garrett drives a sweet ride. It's a pimped out, jet black Stealth, and I'd gladly race him, but he knows he doesn't have a chance!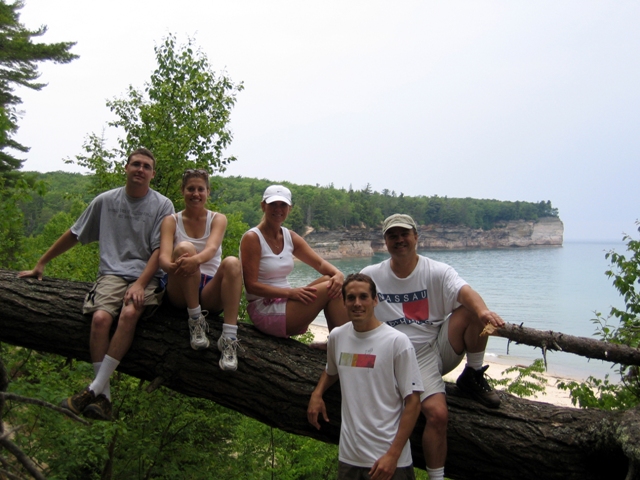 The Zenisek family is also native to the Fox Valley area - my mom, Mary, grew up in Freedom, and Dad Z, Rich, grew up in Kaukauna, WI (we don't often hold it against him). They currently live in Appleton, WI, so very close to College Avenue…..oh, the good times we've had (we definitely take advantage of their couch after a long night on the Ave.) Some time in the near future, they would like to move up to the Minocqua area with hopes of building a log home. Mary works as a nurse's aide technician at Theda Care Physicians in Neenah, WI, where she is greatly loved for her warm, caring spirit and gentle touch. Rich works from their Appleton home, from his Jeep, from his family trailer on Lake Tomahawk, etc……as an insurance salesman. He may work lots, but he knows how to relax and have a good time! I'd like to add that Mary and Rich are still the record-holders for dating the longest before getting married. We competed…..and failed (12 years to their 17!). But I give Rich credit; he definitely made up for it when they finally did get married!
Now we finally get to Justin, who lives in Appleton, WI, and works as a computer engineer at Plexus in Neenah, WI. He may not be around for very much longer, since he's looking to go to grad school in Washington (the state, not DC)….sorry, WI ladies. He may be a computer genius or computer geek --- I haven't decided yet. (…you know we all love it!) Though I believe we have a pretty adventurous family, Justin definitely steps it up a couple notches!