How it All Began
High School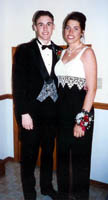 It all began nearly 12 years ago (1994!) when Dan and Tara began dating during their junior year at Freedom High School. They went to Prom and other dances together, cheered each other on in sports, and talked on the phone nearly every night. They were rarely seen apart at school. During this time together, they got to meet each other's families. For both Tara and Dan, growing up in a small town meant everyone knew everyone, and this held true for their families - Dan's father (Gary), and Tara's Mom (Mary), Dad (Joe), and Mom 2 (Deb) went to school together 30 years prior.

College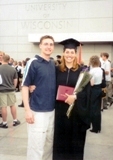 After high school graduation Dan and Tara went their separate ways (geographically) but agreed that they still wanted to be together. So, they attempted the long-distance relationship. Dan went off to UW-La Crosse an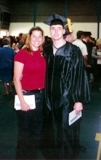 d then a year later transferred to UW-Stout. Tara made her way in the opposite direction to UW-Madison. The next 5 years of college were pretty difficult – a few break-ups and make-ups. They visited each other when they could, which was not nearly enough, but they had a great time when they were together. Though it was the most trying time in their relationship, it was a necessary step to grow and mature as two separate people. Fortunately, those two people grew closer together through all the ups and downs of their relationship.

Working Class
After graduating from college, Dan began working full time at Banta in Menasha, and Tara started her job at Foth & Van Dyke in Green Bay. They spent a year living at home, but realized it would be much more convenient (and a lot more fun) to move in together than going back and forth between each others parents' houses. In August of 2002, Dan and Tara entered into a very interesting living situation. They are living in an apartment above a garage attached to Dan's parents' house. Some day Dan and Tara plan to bu

y Dan's parents' home, so it sort of made sense. The transition into living together was easy and very fun. In September of 2003 Dan and Tara brought home an addition to their little family – Conan, a sweet and playful black, gray, and white tiger-striped kitten. Conan is no longer that tiny little fur ball that they took home that day – he is now 16 pounds!!
Dan and Tara have been spending the last couple years enjoying life and each other – playing with their toys, spending as much time as they can up north, and traveling.

The Engagement
Dan and Tara have been getting a lot of slack from family and friends for a long time, but they have been taking things at their own pace. They have known for a long time that they wanted to spend their lives together, but it was only a matter of timing. Over the last year Dan and Tara have been mulling over when the right time would be, but things just progressed naturally. They started looking at engagement rings in February of this year. After looking at a few places, Tara found the "one" while ring shopping with her mom. Tara called Dan to tell him, who simply said "Buy it!" So, in the untraditional ways of Tara and Dan, Tara bought her own engagement ring! So, Tara came home that evening and showed Dan the ring. He asked her when she would start wearing it, and she replied "When you ask me!" So Tara waited patiently for the next few weeks for the right time to come along.
Even after 11+ years, Dan felt it was necessary to ask Tara's father for his daughter's hand in marriage. Dan spent some time pondering where the most comfortable setting was to talk with her father. Joe ended up blessing the engagement while helping Dan work on his Sea Doo engine. Dan knew Joe would be comfortable in a location with greasy hands and plenty of tools.
On Easter Sunday morning, Dan and Tara were enjoying a very comfortable morning in bed, and Dan decided this was the right time. They had their own little family together – Dan, Tara, and Conan – and it just felt right. Without getting into the mushy details, Dan asked, Tara said yes (of course) and now a wedding is being planned!
Now that you have met us, get acquainted with Dan and Tara's families.